Brand of the Month: People Tree
I recently invested in my first ever piece of clothing from People Tree – I have long admired the brand's ethics and knew eventually I'd have a reason to buy something from them. I needed a pair of plain black trousers for a new job that were professional and comfortable. I landed on the Sasha Trousers in black, a great mix of comfort and style. I love the feel of these trousers as they have a weighty quality to them and a good amount of stretch in them, making them both luxurious and easy to wear. (There is currently a sale on their site for 20% off spring/summer styles)
Fair Trade
At the time they were £55 and that is because of the quality of fabric and ethical supply lines. I feel more comfortable with reasonable prices like this now as I know where these clothes come from and that the people who made them have been paid a fair price. People Tree was founded by Safia Minney in 1991 and actively supports farmers, producers and artisans through 14 producer groups, in 6 countries. They do this not just by adhering to Fair Trade policies, but by also providing technical assistance for producers. These trousers have been made from organic cotton at Assisi Garments, a social enterprise set up by Franciscan nuns, it started by providing training and employment for deaf, mute and economically disadvantaged women. Through the People Tree and Assisi partnership, thousands of families receive livelihood and educational support and profits go to a cancer hospital and medical treatment in Southern India.
Animal-friendly
Their 'Good on You' app rating is currently 'Great' (5 out of 5) and they do not use leather, fur, angora, down or exotic animal skin. The only animal product they use is wool that complies with soil association organic standards, although, with the effects of Brexit on UK sheep farming, this may not be a long-term feature and we may even see People Tree becoming a 100% vegan and sustainable company (fingers crossed).
Material
The material composition is 95% organic certified cotton and 5% elastane. People Tree really cares about minimising their impact on the environment and GOTS (Global Organic Textile Standards) certified cotton is just one way that they show this. Here is what they say about their cotton on their website; "organic cotton is grown using methods and materials that have a low impact on the environment with systems in place to replenish and maintain soil fertility, reduce the use of toxic and persistent pesticides and fertilisers, and build biologically diverse agriculture." It also says that organic cotton farming holds 1.5 tons of CO2 in the soil each year by acre, making this product carbon neutral, although I don't know if that takes into account the elastane in this product.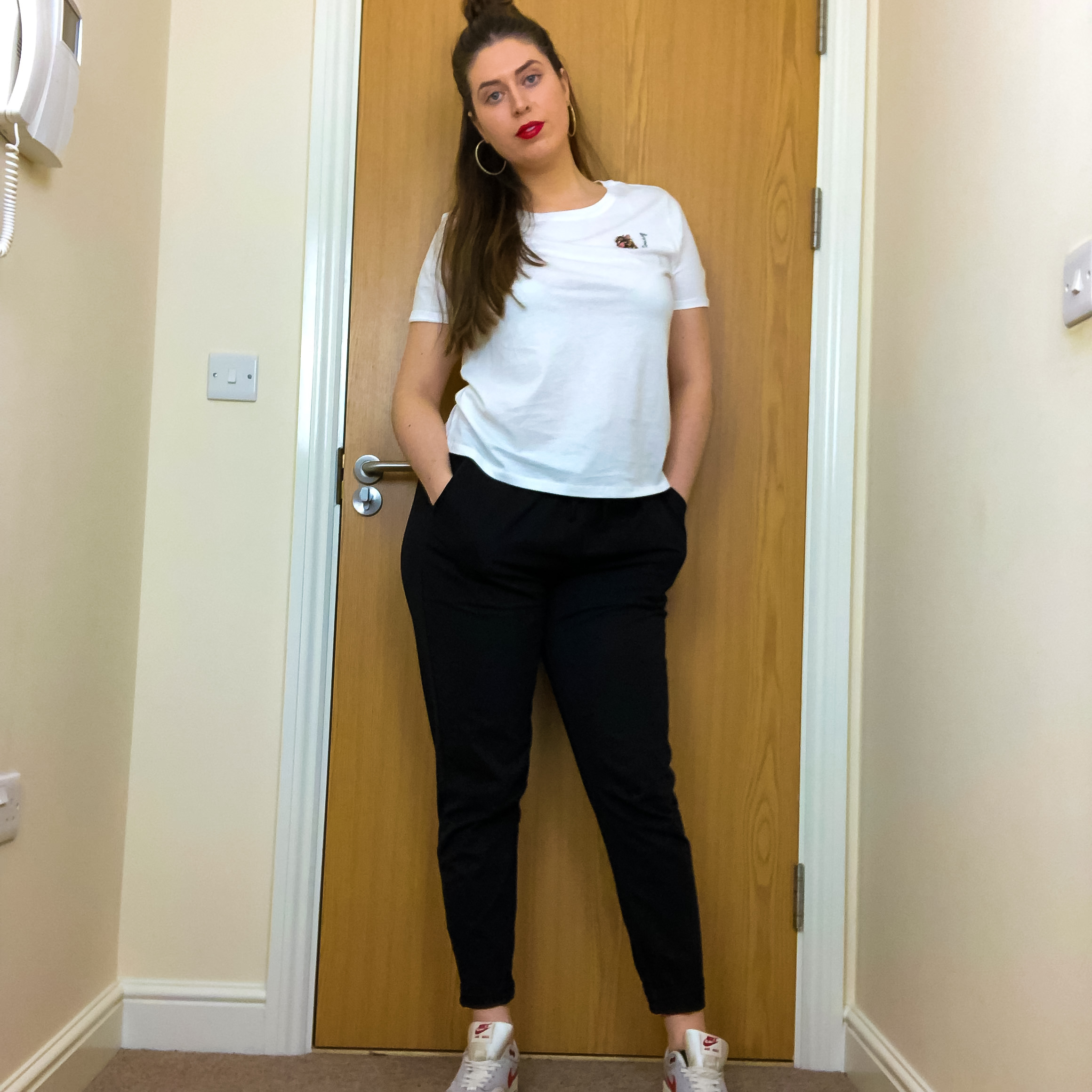 Styling
So far I have worn these trousers to work with flat loafers and long sleeved tops, keeping it quite simple and pared-back. Here I've tried to make them more suited for the weekend by turning up the cuffs and wearing them with trainers and a white t-shirt. This is the kind of outfit I would wear out to lunch with a friend or just hanging out at home, I like that it can be dressed up or down. The red lips are my way of adding some sass to this outfit, did it work? ;) This outfit makes me want spring to hurry up so I can walk around in t-shirts again!
Hope you've enjoyed this month's Brand of the Month, I will be adding People Tree to the list of recommended brands over on my 'brand' tab on the website. As always, let me know what you think and if there are any other vegan/sustainable fashion brands I should be checking out!