A bag for life
I have been on a bag hunt for the last few months trying to find the perfect backpack that doesn't look too "off to trek the Amazon" and is practical enough to use for work. I love the idea of a faux leather rucksack that doesn't look too cheap, but in reality it's been so difficult to find! Most of the options I saw were overly shiny or only came in some God-awful bright neon colour. Now, my favourite colour happens to be back but even so, a black rucksack is a must-have staple of most people's wardrobes!
During my online travels I did come across some absolute beauties though, so I figured may as well chuck together a Top 5 list of the best vegan leather backpacks. So here it is... (click the links to shop!)
The Arizona Backpack from Free People is made from faux leather and has multiple zipper pockets plus inner slip pockets and all for £39.95. This beast looks huge but imagine you've got a million and one things to do in a day, how much easier would it be to just throw everything in one bag and go? Make life easier and look good while you do it - why not?
Matt & Nat are the gods of vegan bags, renowned for their innovative designs and their commitment to not using leather or any other animal product. The square backpack is a controversial choice but definitely one of the more 'smarter' styles, goes great with a duster jacket and sneakers.
If you're looking for something a bit more low-key, then the H+M backpack might be the one for you. It has a drawstring opening with a faux leather fold-over flap and buckles. The mix of canvas material and imitation leather makes this badboy a perfect day-to-night bag for the girl who just doesn't stop.
The small backpack, much like Jennifer Aniston's hair, is a 90's icon. The revival of this style of bag has been one of my highlights on the 2000's - I really do hope it is here to stay. The ASOS mini backpack has all the cuteness that you would expect and has the added bonus of the front pocket - so more room for all your super important/unnecissary crap.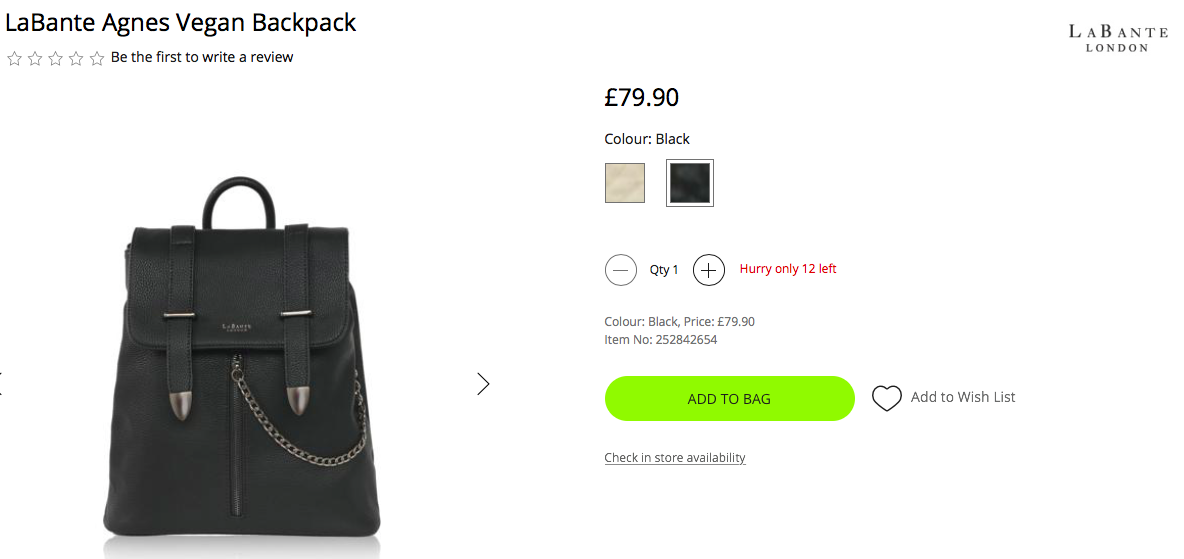 Oh you fancy huh? Well you'll need the bag to prove it gurl. Get you the LeBante Agnes Vegan Backpack (available through House of Fraser) for a fabulous £79.90 and be the envy of EVERYBODY. Dual inner pockets, chain detailing and extra zipper pocket on the rear - this bag is like the James Bond of bags.